*NO CANCELLATIONS OR REFUNDS ON PIPES*
** PLEASE EMAIL FIRST FOR AVAILABILITY, ETA 4-5 WEEKS !! **
The Banshee Alien just got updated with this new optional black anodized finish.The new Banshee Alien with anodized mufflers and black end caps is a complete system that features 2 standard chrome plated expansion chambers, mid pipes, and mufflers. These are very comparable to the TOOMEY T5!
This system delivers a massive 37% gain in horsepower, 30% gain in torque, and a weight savings of 14.9 pounds compared to stock!
This is unbelievable power that will completely decimate your competition! Grab onto all that power and run it as far as your courage will take you in this smooth and controllable power band the delivers from bottom to top. Spark arrestors sold separately.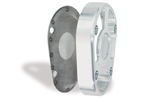 Remember, this system requires (2) Spark Arrestors.
1989-Current YAMAHA YFM 350 BANSHEE EXHAUST
37% Increase in Horsepower
30% Increase in Torque
14.9 lbs. weight savings over stock
Model: 25464-00
Shipping Weight: 12lbs
Manufactured by: DMC Exhaust
** TRACKING # WILL BE EMAILED ONCE SHIPPED. PLEASE DO NOT CALL OR EMAIL US FOR TRACKING! **
PLEASE NOTE:
There is a relief dent in the right side expansion
chamber. This dent does not affect the power
or the durability of your DMC system. This dent
is placed in this position by DMC purposely to
provide clearance for the water pump hose.
DMC Banshee Black Alien Exhaust
Product Code: DMC-BANSHEE-ALIEN
Product images may vary slightly from the actual product and colors may appear different due to monitor settings.