*NO CANCELLATIONS OR REFUNDS ON PIPES*
** *Our current Eta for this item is 1 week unless we have cancellations. * **

Pre-order now and be first on the back order list!
The black anodized Blaster Exhaust System adds substantial powers gains to your Yamaha Blaster, putting your machine in front of the pack and putting others to shame.
With a 25% increase in horsepower and a 20% increase in torque, the power and smooth delivery may be more than you can handle.
The system features a chrome plated expansion chamber and an extruded and anodized Alien muffler that's rebuildable in minutes. DMC uses the highest quality packing material for maximum life and maximum noise reduction.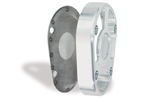 Other features include a rubber mounted aircraft alloy, billet aluminum muffler bracket.
USFS/USDA approved spark arrestors are sold separately.

1987-Current YAMAHA YFM 200 BLASTER
20% Increase in Torque
25% Increase in Horsepower
6.2 lbs. weight savings over stock
Model: 25466-00
Shipping Weight: 8lbs
Manufactured by: DMC Exhaust
** TRACKING # WILL BE EMAILED ONCE SHIPPED. PLEASE DO NOT CALL OR EMAIL US FOR TRACKING! **
DMC Blaster Exhaust System Black
Product Code: DMC-BLASTER-EXHAUST
Product images may vary slightly from the actual product and colors may appear different due to monitor settings.